UNITY GATHERING – SUNDAY MAY 6TH, MILL HILL PARK – 2pm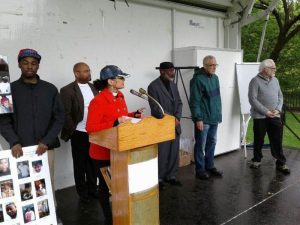 Sunday, May 6th, United Mercer Interfaith Organization (UMIO) is holding its Unity Gathering for the families, friends and those concerned about the victims of homicide violence during the past year. This prayer gathering is focused on remembering those murdered in Trenton over the last twelve months.
The Unity Gathering will be held in Mill Hill Park (165 E. Front Street, Trenton) from 2:00pm – 5:00pm. The prayer gathering is being held by in coordination with several other organizations. The timing of the Unity Gathering each year coincides with National Prayer Day. This year is UMIO's 5th Anniversary in holding this Unity Gathering.
The interfaith ceremony will feature music, readings, commentary, and prayers. The moderator for this year's memorial gathering is the Rev. Karen Herandez-Granzen, Pastor of Westminster Presbyterian Church in Trenton.  Music will begin at 2:00pm, which will allow families an opportunity to interact with others and avail themselves of information on support services they might find helpful. Speakers will make up the formal portion of the program from 3:00-4:00pm, followed by more music and refreshments.
The families of the victims are invited, as well as members of the community impacted by their loss.  UMIO is reaching out to members of the community in the hope of locating as many families as possible.  Family members who are interested in attending should contact Rev. Molly Dykstra at Covenant Presbyterian Church, , 609.989.8282.