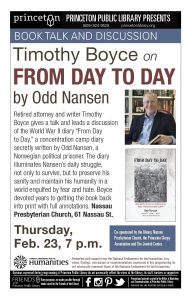 Nassau Presbyterian Church Hosts Timely Thought-Provoking Discussion of Rare Diary of a Nazi Concentration Camp Survivor
Long-forgotten masterpiece back in print in English after sixty-five years
Princeton, NJ. – Nassau Presbyterian Church will host a discussion and book signing with Timothy Boyce, editor of the concentration camp diary From Day to Day, on Thursday, February 23, at 7:00PM. Boyce will discuss the story of Norwegian architect and humanitarian Odd Nansen, who was arrested in 1942 by the Nazis. Nansen spent the remaining years of World War II in various concentration camps in Norway and Germany. During that time he kept a secret diary on tissue-paper-thin pages he later smuggled out of the camps.
With an unsparing eye, Nansen described the casual brutality and random terror that was the fate of a camp prisoner. His entries reveal his constantly frustrated hopes for an early end to the war, his longing for his wife and children, his horror at the especially barbaric treatment reserved for Jews, and his disgust at the anti-Semitism of some of his fellow Norwegians.
An English translation of the diaries was first published in 1949. It received rave reviews, but soon fell into obscurity. In 1956, in response to a poll about the "most undeservedly neglected" book of the preceding quarter-century, Carl Sandburg singled out From Day to Day, calling it "an epic narrative," which took "its place among the great affirmations of the power of the human spirit to rise above terror, torture, and death." Indeed, Nansen witnessed all the horrors of the camps, yet still saw hope for the future.
This new edition, from Vanderbilt University Press, is the first published in over sixty-five years, and contains extensive annotations from editor Timothy Boyce and new diary selections never before translated into English. Forty sketches of camp life and death by Nansen, an architect and talented draftsman, provide a sense of immediacy and acute observation matched by the diary entries.
Nassau Presbyterian is located at 61 Nassau St., Princeton, NJ. Admission is free. The event is co-sponsored by the Princeton Public Library, the Princeton Clergy Association and The Jewish Center of Princeton.
Odd Nansen (1901–1973) was a Norwegian architect and humanitarian. Son of the famous explorer, statesman, and humanitarian Fridtjof Nansen, Odd followed in his father's footsteps when he founded Nansenhjelpen in 1936 to address the plight of Central European refugees fleeing Nazism. Arrested in 1942, Odd Nansen spent the remainder of the war in various concentration camps. Following the war he remained active in humanitarian organizations such as UNESCO, and continued to speak out against injustice, oppression, and violence.
Timothy J. Boyce practiced law for thirty-five years.  He retired in 2014 as the Managing Partner of the Charlotte, North Carolina, office of Dechert LLP, an international law firm.
---
PRAISE FOR From Day to Day: One Man's Diary of Survival in Nazi Concentration Camps
"A long-forgotten masterpiece. . . . Rarely has the inhumanity of the camps been captured with such humanity." —Nikolaus Wachsmann, author of KL: A History of the Nazi Concentration Camps
"This is one of the most searing contemporaneous accounts of the Holocaust, but also one of the best written of the great documents of World War II. It is a profound indictment of evil, a daily diary of torment and torture, yet also somehow a deeply moving love letter. It should find a place on the bookshelf of every home, be taught in every school, made into a movie, and feted for what it says about man's capacity for humanity in the face of satanic loathsomeness."
—Andrew Roberts, author of The Storm of War: A New History of the Second World War; Masters and Commanders: How Four Titans Won the War in the West, 1941–1945; and Napoleon: A Life
From reviews of the 1949 edition:
"Writing with no thought of publication, merely to keep a record for his wife and to express his own boiling emotions, Mr. Nansen somehow created a remarkable book. Using stolen paper and stolen time, always in fear of being caught, he described each day's adventures with stark simplicity and intimate authority. His book, although immensely long, is a continuously engrossing narrative. It is filled with vivid, concrete details, sharp character sketches, unspeakable horrors."
—Orville Prescott, New York Times
"Most citizens, one hears, are fed up with books about the atrocities of the Nazi concentration camps. But this book is different from all the others this reviewer has read. True, it does not slur over the unspeakable barbarities. But it rises above them and reminds us in never-to-be-forgotten pages how noble and generous the human spirit can be in the face of terrible adversity."
—William L. Shirer, New York Herald-Tribune
---