Mission Partnership Quarterly
As you read about Nassau's three mayor partnerships in Trenton, Malawi, and Burma/Myanmar, you will see very different emphases in three very different contexts: In Trenton, a Unity Rally calling for a prophetic and compassionate response to Muslins, immigrants and refugees; at CETANA the preparations to open a new English language center in the village of Kanpetlet, and with Villages in Partnership a focus on digging wells for need irrigation for crop security.
As always, we welcome your questions, suggestions, and support as we seek to deepen our commitments beyond the Nassau Church community.
For the Mission & Outreach Committee,
Joyce MacKichan Walker, staff
Updates and events with a our local and global mission partners. Four issues annually. Sign up to receive these updates in your email.
---
Update from VIP (Villages in Partnership)
by Loretta Wells
Solar Irrigation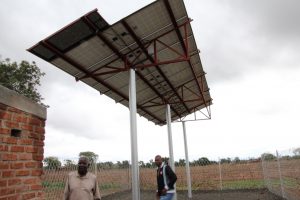 As the impacts of climate change become more pronounced, the weather conditions during the growing season in Malawi have become more unpredictable. Because of this, Villages in Partnership is investing in irrigation technology. This will allow the villagers we partner with to become less dependent on the weather for the success of their harvests. Thanks to the incredible generosity of our supporters, we were able to raise enough money to bring solar irrigation to two of our villages in 2017. Hundreds of villagers will now be on the path to food security!
Boreholes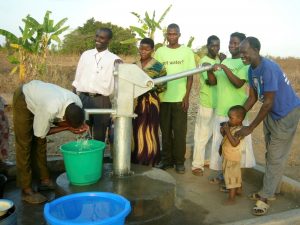 Clean water is often the number one priority for villagers when VIP first approaches a village to explore a partnership. That is why Villages in Partnership has been focused on the construction of wells almost since our inception. While we have built and repaired countless shallow wells and water holes, we now focus more on the construction of the deeper borehole wells which are generally cleaner and reach deeper into the water table. To date, VIP has drilled 20 borehole wells, and we are drilling 7 more in 2017! These borehole wells will provide safe drinking water for thousands of villagers.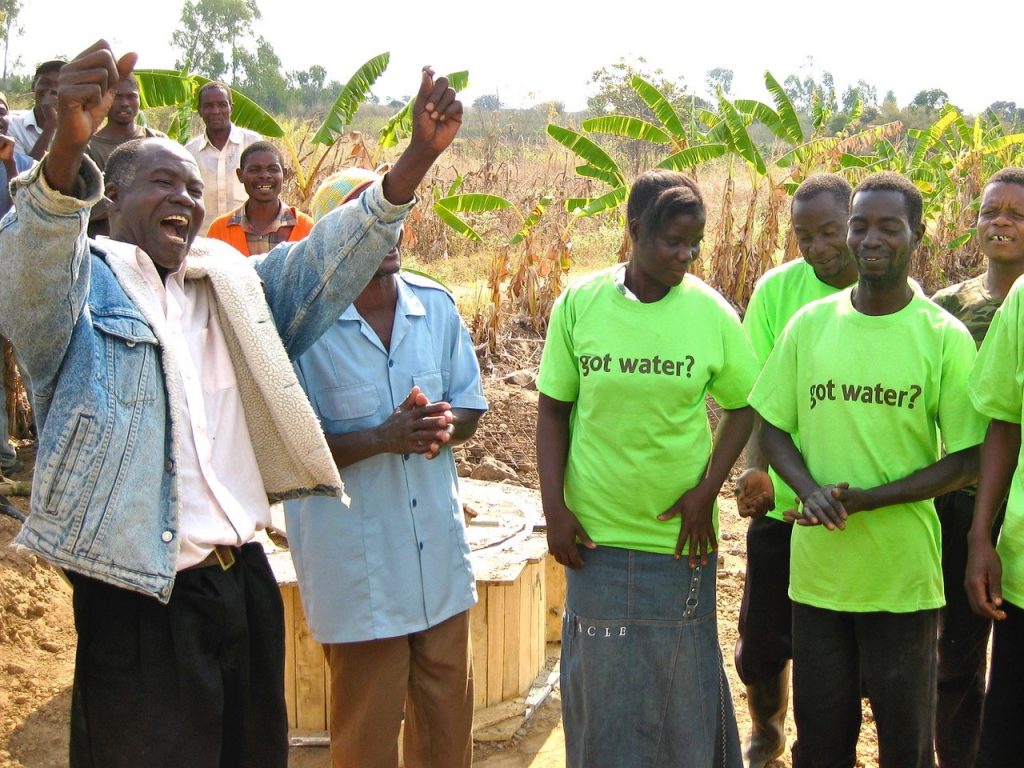 Read previous reports…ONLINE
We are looking forward to working with VIP and will keep you updated as to how you may become involved. Any questions please contact Loretta Wells at lorwells4@gmail.com.
---
Update from Cetana Educational Foundation
by Sue Jennings & Joyce MacKichan Walker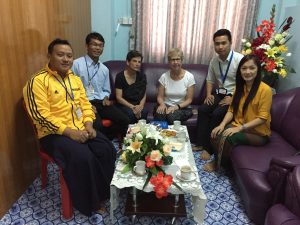 In January, Joyce MacKichan Walker and Sue Jennings, a member of the mission committee and board member of Cetana Educational Foundation, traveled to Myanmar to see our mission partner Cetana's work firsthand. A day after arriving in Yangon they joined others from Cetana and a group from Metta Partners on a flight to Bagan and then a long, bumpy ride into the Chin hills to Kanpetlet, a gateway to the Natma Taung National Park, a wildlife conservation area noted for its diverse flora and fauna. In Kanpetlet Cetana and Metta Partners are working to improve the teaching of English in the government school. Joyce spent a morning observing classroom instruction while Sue joined a discussion with the school's principal regarding long term needs. Janet Powers, a retired Gettysburg College professor and ESL expert who has volunteered her services to Cetana, spent her time in Kanpetlet doing a brief evaluation in preparation for a month-long stay in the spring, when she will conduct teacher training workshops. Nassau Church's support will make this visit possible and will also fund a fledgling, independent English language learning center to be housed in a local church.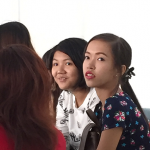 Improving English instruction is crucial if the standard of living is to be raised in one of the poorest regions of Myanmar. Young people need English to find employment in the local tourism industry, which, since the opening of the country, is poised to take off. And English language skill will also enable some local children to advance beyond the primary level to secondary and post-secondary education, for which English proficiency is a requirement. The children in Myanmar, even in these remote areas, have the same dreams that our own children have, but they face formidable challenges. It was inspiring for Joyce and Sue to spend time with them.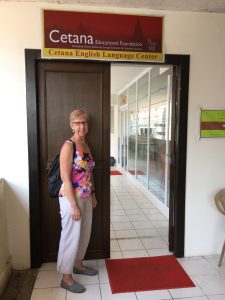 Returning to civilization, Joyce and Sue visited the new quarters of Cetana's learning center in Yangon. Joyce also had a chance to speak at a chapel gathering at the Myanmar Institute of Theology, the site of another Cetana-initiated English language program, where she brought greetings from Nassau Church and emphasized our fellowship with the people of Myanmar. Joyce and Sue then joined up with a Cetana-sponsored tour of Myanmar–from the archaeological sites in Bagan, to Mandalay, and to Kyaing Tong in remote Shan state, where Cetana has another regional learning center.
Cetana sponsors a yearly trip to Myanmar and encourages Nassau members to participate. Watch for details this summer about the 2018 tour.
Read previous reports…ONLINE
Your ideas for making this a vital partnership are welcome. For more information, contact Sue Jennings, susancjennings@gmail.com.
---
Update from Westminster Presbyterian Church
by Rev. Karen Hernandez-Granzen
Westminster Presbyterian Church is being called to play a pivotal role during this challenging post-election season. For over 35 years, instead of fleeing the city and its many challenges as many mainline churches did starting in the 60's, God chose to bless our congregation with the faith, courage, hope and 75-plus partners including Nassau needed to continue seeking shalom of the city through a ministry of reconciliation (2 Corinthians 5:18).  Until recently, most of our resources and programs have been focused on racial reconciliation, becoming a multiracial and multicultural worshiping congregation, improving the low quality of public schools in Trenton, working to dismantle mass incarceration, ministering to reentry / returning citizens and their families, reaching out to young adults who feel disenfranchised by the traditional church through Bethany House of Hospitality, yet still called to serve the city of Trenton, assisting immigrants to acquire English proficiency to support the education of their children and to secure gainful employment, and becoming a welcoming congregation for the LBGTQ-plus community. Now we are also responding to the call of keeping our own Democratic and Republican members united in the midst of our differences in order to talk and walk  the Gospel of Jesus Christ for such a time as this!
Most recently, as the Vice-Chair of United Mercer Interfaith Organization (UMIO) and a founding member of Trenton Mayor Eric E. Jackson's Latino Advisory Council, I was asked to help organize a Trenton Unity Rally in response to all the recent executive orders that are negatively impacting Muslims, immigrants, refugees, and may eventually affect the LBGTQ-plus community. I was deeply encouraged when every colleague and musician that I invited didn't hesitate to say "¡Si!" / "Yes!" to participating. Over 250 attended even though the Unity Rally was organized in less than a week! Together we represented Muslims, rabbis and grandsons of Holocaust survivors, Sikhs, the LGBTQ-plus community, and Christians of various denominations. I truly must confess that I was very prideful of all the Presbyterian members representing Nassau, Ewing, Lawrenceville, Flemington, Dutch Neck, Slackwood, and Westminster congregations. I believe that this Unity Rally is only the beginning of many ways that the PCUSA can respond to God's call to a prophetic and compassionate. Ministry.
As a board member of the Latin American Legal Defense and Education Fund (LALDEF), Nassau's 10-year plus partner, I invited our new Executive Director Adriana Abizadeh to prepare a statement that included immigrants' stories. Ruling Elder Bill Wakefield is a founding member of the board, and I have been serving on the board for over 3 years. LALDEF adopted its organizational mission to defend the rights of the Latin American community, facilitate its access to health care and education, and advance cross-cultural understanding within the Mercer County region. LALDEF provides legal services, youth mentoring, and adult education among other services to the immigrant community of Mercer County. Nassau provided LALDEF with office space until we moved our offices to the Chambersburg neighborhood of Trenton over two years ago. Please read below Adriana's statement which she shared at the Trenton Unity Rally.
I want to talk to you for a minute about the national response to Executive Orders that have come from our current administration. Immediately following the issuance of the order c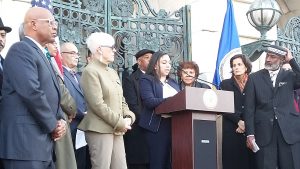 reating the Muslim Ban, attorneys and other concerned individuals flocked to the airports to provide legal support to travelers affected by the ban. They advocated jointly and with concerted efforts were able to get a stay for this ban and ultimately they were able to suspend the travel ban. This overwhelming show of support was well covered by the media and it is a testament to our system of checks and balances.
United we must continue to fight battles at the national level, so that organizations like LALDEF can work with families at the local level. Families are coming into our office and calling in everyday with fears and in need of counsel. Many families are full of anxiety and have concerns that their families will be torn apart. We must show them that there are people who care and that are willing to fight their battles with them. At LALDEF we are assisting families in the creation of safety plans and temporary custody agreements. We are referring clients to counseling that have found the political climate of the last few months too much to bear. Children are coming home telling their parents about their encounters with bullying and we are here to advocate on their behalf. What this nation needs now is education about these issues. This nation needs education on the underlying societal framework to realize the effects that the removal of immigrants would have, not only emotionally and physically to these individuals, but to this nation's economy.
Our media has played a large role in sharing stories of immigrants affected by raids and torn apart by archaic and inadequate immigration policies. The Super Bowl displayed the power of media and it showcased that this great nation will not allow for large-scale hatred and its associated rhetoric. There were at least 4 commercials that I know of that aired during the game that provided pro-immigrant content. This is a testament to the power of media in our country as the Super Bowl was watched by an average of 111 million viewers. With their advertisements, these companies took public stances on a controversial issue in our nation's history. Immigrants are welcome here. Together we can spread a message of love and we can combat fear.
On February 21, at the Senator Cory Booker and Senator Bob Menendez Rally in Newark New Jersey, I also read and submitted Adriana's statement for public record. Please visit these links to read articles and see photos of the Trenton Unity Rally on February 6, 2017:
Trenton rallies against Islamophobia, bigotry
Read previous reports…ONLINE
Interested in visiting Westminster's 11AM worship and meeting our partners? Contact Patti Daley, pattidaley@aol.com.
---