---
FEBRUARY 2017 UPDATE
by Sue Jennings & Joyce MacKichan Walker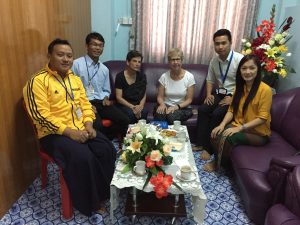 In January, Joyce MacKichan Walker and Sue Jennings, a member of the mission committee and board member of Cetana Educational Foundation, traveled to Myanmar to see our mission partner Cetana's work firsthand. A day after arriving in Yangon they joined others from Cetana and a group from Metta Partners on a flight to Bagan and then a long, bumpy ride into the Chin hills to Kanpetlet, a gateway to the Natma Taung National Park, a wildlife conservation area noted for its diverse flora and fauna. In Kanpetlet Cetana and Metta Partners are working to improve the teaching of English in the government school. Joyce spent a morning observing classroom instruction while Sue joined a discussion with the school's principal regarding long term needs. Janet Powers, a retired Gettysburg College professor and ESL expert who has volunteered her services to Cetana, spent her time in Kanpetlet doing a brief evaluation in preparation for a month-long stay in the spring, when she will conduct teacher training workshops. Nassau Church's support will make this visit possible and will also fund a fledgling, independent English language learning center to be housed in a local church.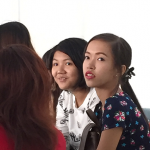 Improving English instruction is crucial if the standard of living is to be raised in one of the poorest regions of Myanmar. Young people need English to find employment in the local tourism industry, which, since the opening of the country, is poised to take off. And English language skill will also enable some local children to advance beyond the primary level to secondary and post-secondary education, for which English proficiency is a requirement. The children in Myanmar, even in these remote areas, have the same dreams that our own children have, but they face formidable challenges. It was inspiring for Joyce and Sue to spend time with them.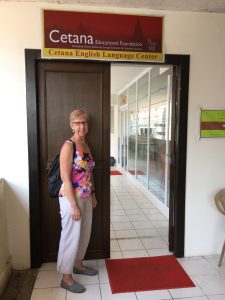 Returning to civilization, Joyce and Sue visited the new quarters of Cetana's learning center in Yangon. Joyce also had a chance to speak at a chapel gathering at the Myanmar Institute of Theology, the site of another Cetana-initiated English language program, where she brought greetings from Nassau Church and emphasized our fellowship with the people of Myanmar. Joyce and Sue then joined up with a Cetana-sponsored tour of Myanmar–from the archaeological sites in Bagan, to Mandalay, and to Kyaing Tong in remote Shan state, where Cetana has another regional learning center.
Cetana sponsors a yearly trip to Myanmar and encourages Nassau members to participate. Watch for details this summer about the 2018 tour.
Your ideas for making this a vital partnership are welcome. For more information, contact Sue Jennings,
---
DECEMBER 2016 UPDATE
Cetana is pleased to announce that it will be expanding into another area of Myanmar. Thanks to a recent grant from Child's Dream, Cetana is opening a learning center in Dawei, in southeastern Myanmar, which is the site of a deep water port currently under construction that will transform the region into an important trading hub. The director, Ta Law Lon (Chris), formerly taught at the Myanmar Institute of Theology in Yangon. His students will be young people from more remote villages who are living in Catholic and Baptist boarding houses while they continue their education in Dawei.
In January 2017, Joyce MacKichan Walker, Nassau Church's liaison to the mission and outreach committee, will be traveling to Myanmar with Sue and Michael Jennings, Nassau members and Cetana board members. Joyce and Sue leave on January 8 to fly to Yangon and then drive into the Chin hills, where they will join Metta Partners, Cetana's collaborator in a new English language learning initiative in Kanpetlet. Joyce and Sue, as well as Ba Win and Emily Fisher from Metta, will visit the local public school, which Nassau Church has supported through the donation of textbooks, and talk with local leaders who are working to improve the quality of English language instruction in the region. On returning to Yangon, Joyce and Sue will also visit Cetana's newly opened facility in the Theingyi Market in the downtown area before joining up with Michael and a larger group traveling to other parts of Myanmar, including Kyaing Tong near the Thai and Chinese borders, the site of another Cetana learning center.
There is room in the Nassau Church travelers' suitcases for teaching supplies. If you would like to donate pens, pencils, markers, notebooks, etc., please contact Sue ().
---
SEPTEMBER 2016 UPDATE:
Cetana on the Move. . .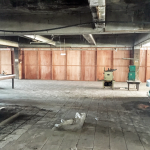 Thanks to some generous donors, the Cetana English Proficiency Center (CEPC) in Yangon is moving to new quarters. Construction is underway on Cetana's new school in downtown Yangon. When the move takes place later this fall, there will be more space for more students, a location within the transit hub, and a fresh, open, and attractive environment for learning. Cetana students and staff are excited and eager to make the move. Building out on the third floor of the teeming Theingyi Market involves turning a derelict, loft-like space into a modern, efficient school. Cetana will have four 25-student classrooms, a reception area, director's office, administrative space, teachers' room, computer lab, library and a small kitchen. Surprisingly, the rent for our new location will be substantially less than the center's previous quarters.
Furnishings are what will make the new school truly welcoming. The two informal spaces–student lounge and teachers' room–should be areas that encourage sociability, with comfortable sofas and chairs. Projection equipment would be an important teaching tool; internet connections would let teachers and students get online and access a variety of online learning tools. These important refinements will support casual interactions and learning in and outside the formal classroom setting. If you would like to help Cetana with this wish list, please consider a contribution. Donations can be made online at https://cetana.org/donate/
And in Kanpetlet. . . 
The Cetana-Metta Partners English language program in Kanpetlet, Chin State, Myanmar, which Nassau Church mission funds are supporting, is making progress. U Ba Win, who came to speak at Nassau Church last summer, was in Kanpetlet this past spring with a former Bard student, Aung Mon. They interviewed teachers in the local public school and assessed their fluency in English in order to design specific training to suit their abilities. An intensive training, directed by an American ESL trainer and Myanmar trainers, will take place in March 2017.  In addition to teacher-training opportunities, there is a critical need for more teaching aids—textbooks, grammar and vocabulary books, and audio-visual materials. With funding from Nassau Church, Ba Win and Aung Mon were able to take copies of the government textbooks so that each child has a copy. (The government supplies only a textbook for each teacher. ) Additional workbooks and other teaching materials are being sent from time to time.
Come on October 7 to Celebrate the Partnership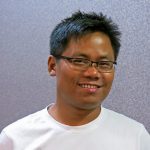 The mission committee hopes members of the congregation will come celebrate the Nassau Church-Cetana mission partnership the evening of October 7 at 6 pm in the Assembly Room. Aung Tun, a former Cetana scholar and new Cetana board member, who now works for the Asia Development Bank, will talk about the country's progress toward democratic reform. Rangoon Restaurant, in Philadelphia, will provide a classic Burmese meal of Ohn no Khao Swe,  and we will also have a chance to thank Nancye Fitzpatrick and Bob Hendrickson, both of whom traveled to Burma with Lois and Jack Young and have remained committed to Cetana. Tickets for dinner and the talk are $25, and all proceeds from the event will benefit Cetana students. Advance reservations are necessary. Contact Sue Jennings (609.683.4435; ).
---
JUNE 2016 UPDATE: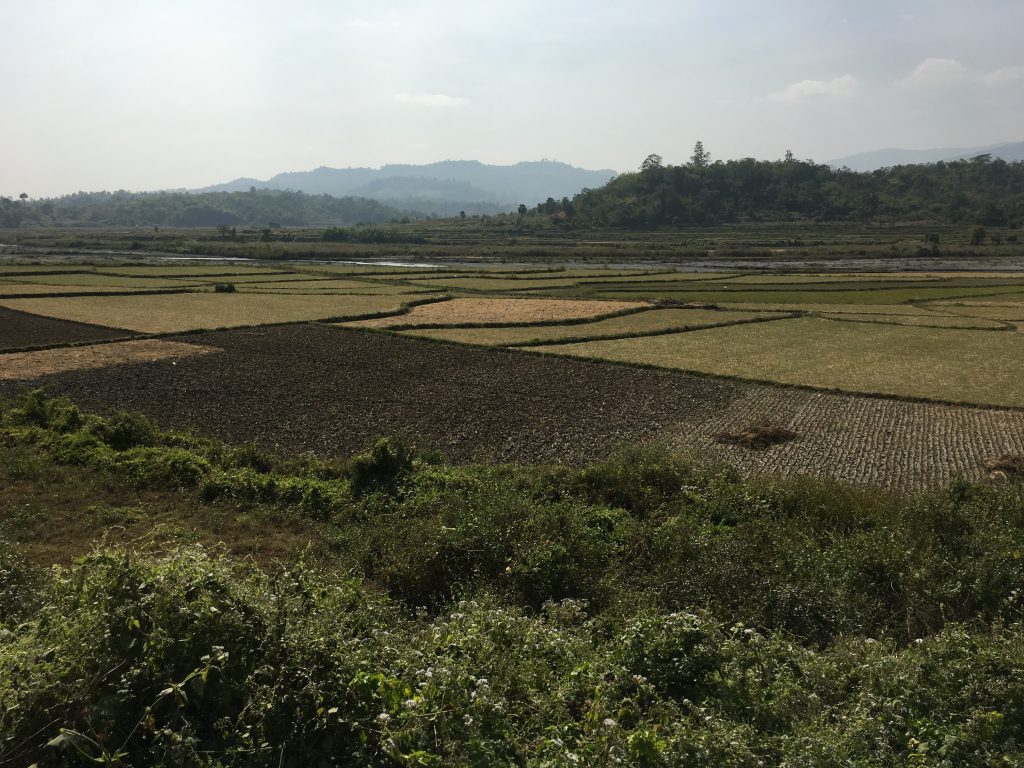 Chenault Spence, the president of the Cetana board, just returned recently from a visit to Myanmar. While there he visited the Cetana learning center in Kyaing Tong, located in the "Golden Triangle" near the border with Thailand, Laos, and China. Cynthia Paul, who received her degree in English language teaching thanks to a Cetana scholarship, returned to Kyaing Tong a few years ago to found the learning center, which already has over 300 students studying English. Cynthia, always full of energy and new ideas, has now launched a new initiative at the learning center called the "Rice Village Project." Her goal is to provide an opportunity for young girls in remote villages to continue their education. The Myanmar government provides schooling through grade 5.  However, after that, many students, particularly those in poor, remote areas, drop out because there are no opportunities for them to advance. Most go to work in the rice fields of their villages, but some girls become the victims of traffickers as they seek to earn more money for their families. For this reason, Cynthia's initial focus is on female students.
Currently she has three young girls in residence  in Kyaing Tong. They come at the recommendation of their teachers from distant villages and live at the learning center, while their parents provide modest "compensation" in the form of rice. During the day they attend regular school in Kyaing Tong, 6th grade through high school, and in the afternoons, they attend English language classes at the learning center.
Eventually, Cynthia would like to expand this program to include as many as 30 girls. Cetana's board is submitting proposals for funding of this expanded program to local and international NGOs as well as seeking funding from private individuals. If financing is successful, Chenault Spence says, "It will be possible to acquire proper dormitory space and hire a staff to oversee the girls and provide academic support.  These young girls will then have a chance not only to graduate from high school, but also to master English and access possibilities unimaginable in their home villages."
---
MARCH 2016 UPDATE:
Nassau Presbyterian Church will support new cooperative learning center in Chin State
Kanpetlet is an isolated, mountainous town in western Chin State, about 90 miles from historic Bagan. A former hill station where the British Raj sent families during the hot, humid months, it's a several-hours drive to Mt. Victoria, a tourist destination noted for its mountains and jungles. Trekkers, bird watchers, and orchid fanciers come to explore Nat Ma Taung National Park. The poorest and among the least developed areas in Myanmar, Chin State is predominantly Christian because of the influx of Christian missionaries who began to arrive in 1899.
Cetana president Chenault Spence was invited to visit Kanpetlet recently by Americans from Metta Partners, an organization that supports the Metta Geha orphanage in Kanpetlet, and by the Parahita Committee, a group of local leaders who oversee the orphanage. Around 60 children, who come from poor villages surrounding Kanpetlet, live in the orphanage and attend local schools. Most of the orphanage residents are not actually orphans but children from desperately poor or addicted families in the outlying villages.
Sponsors of the orphanage seek to give residents of this isolated community a window on the larger world and opportunities to gain employment in tourism. Only ten residents of Kanpetlet currently speak English, out of a population of 20,000. The surrounding villages comprise a much larger number of residents. Kanpetlet has four primary, two middle, and one high school (up to the 10th grade). Most children leave school by the end of primary school.
While youngsters do attend English classes in the government schools, fluency is not a realistic goal. With only enough textbooks for teachers, lessons are written on the blackboard and copied by students. Instruction focuses on memorizing items that will appear on exams. There are no opportunities for listening or speaking.
Cetana has been invited to augment Kanpetlet's education resources by setting up an English language learning center. This spring, as a first step, Cetana and Metta Partners will send English textbooks for students. Ba Win (the retired Bard College educator who offered an adult ed presentation at Nassau last summer) will travel to Kanpetlet to help train teachers in the use of the textbooks. Through 2016 Cetana will work with the Parahita Committee to plan courses for local English teachers who teach in the primary, middle, and high schools. Classes will be introduced in 2017 for the two-month summer recess. Teacher trainers will also work with the youngsters at the orphanage. Eventually Cetana will offer English classes to local adult residents and high school graduates who hope to attend college.
English teachers in the government schools are enthusiastic about the prospect of receiving additional training during their summer break. We expect to begin these workshops in June. This fledgling effort is seen as the first step in creating a learning center in Kanpetlet, which will be a model for the way that Cetana can serve isolated communities around the country.
---
DECEMBER 2015 UPDATE:
The Elections in Myanmar and Cetana's Mission to Teach English and Critical Thinking
Cetana, Nassau Church's partner in Myanmar/Burma, celebrates with the people of Myanmar the results of the November 8 elections. Close to 80 percent of the vote supported Aung San Suu Kyi's party, the National League for Democracy (NLD).
Still much needs to be done to redress Myanmar's long history of human rights abuses. It remains to be seen how the military will "share" power with the NLD—by law they retain 25 percent of the seats in Parliament—and, also by law, they control the three most important government ministries. Persecution of the Muslim Rohingyas continues, and most of the population is denied justice in every sphere of life.
Education, the focus of Cetana's work, remains key to the progress of democratic reform. As Myanmar opens to business and investment, there is a need for educated individuals to support this growth. Yet education has been a low priority for two generations.
The teaching of English was suspended, and educational standards plummeted after the 1962 coup.
Except for distance-learning most universities were closed intermittently after the 1988 military crackdown and murder of thousands of students.
According to UNICEF less than 50 percent of students finish primary school; the figures are worse for those displaced by ethnic conflict.
During the military dictatorship less than 2 percent of of the national budget was spent on education.
Learning by rote, poorly trained teachers with meaningless degrees, and lack of resources–books, curricular materials, computers—continue to characterize the primary and secondary school system.
Critical thinking is unheard of in most schools.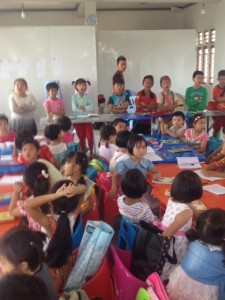 Over 300 children are enrolled in the Kyaing Tong learning center's English classes.
Central to the effort to reform education in Myanmar is access to high-quality English language training. The primary schools now include English in the curriculum, but the quality of instruction is poor. Knowing English is essential—most of the jobs associated with economic development require good English, and higher education in most fields requires English competency.
In this context, Cetana's classes in English and critical thinking, which serve students of modest or meager means, are more important than ever. They not only give students tools they need to obtain jobs and serve their fellow citizens. They are a means of empowering individuals who will work toward a just and peaceful Myanmar.
---
SEPTEMBER 2015 UPDATE:
In spring 2014 Nassau Church entered into an international partnership with Cetana Educational Foundation, an organization that provides educational opportunities, especially English language training, to the young people of Myanmar/Burma, one of the world's poorest nations.
Why Cetana and why now? Cetana has had an ongoing relationship with members of Nassau Church. Longtime member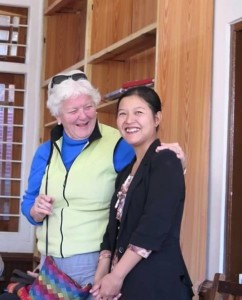 Lois Young and her siblings, who were raised by missionary parents in Burma, founded the organization back in 1992, after decades of military rule had destroyed the country's educational system. Lois's family and early Cetana supporters wanted to make it possible for Myanmar students to study abroad. Almost from Cetana's start, Lois and her late husband Jack led a band of Nassau members and other friends annually to meet with Cetana scholarship students, visit Cetana learning centers, and view some of the country's beautiful landscapes and cultural sites. So there is a generation of Nassau members who have long been interested in Myanmar and supportive of Cetana's work.
In 2010, with the putative end to the dictatorship, Myanmar began to open itself to the world, and foreign investors and tourists began to flood the country. Cetana, which had always operated "under the radar," suddenly had an opportunity to expand its work. The focus shifted from providing scholarships for study abroad to opening learning centers where young people of all ages could learn the English language as well as critical thinking skills, so important to a nascent democracy.
Cetana now has four learning centers, two in Yangon and two in poor, ethnic regions (Myanmar has more than 130 ethnic groups and languages, making the English language all the more important as a communication tool). The learning centers provide instruction for the very young as well as adolescents and young adults wishing to continue their education or find employment within the new economy. With the support of Nassau Presbyterian Church Cetana has been able to hire an executive director, Khoo Kyaw San, who, in addition to overseeing the learning centers, has been charged with raising funds within the country. Cetana also plans to open another learning center soon, this too with Nassau's financial support.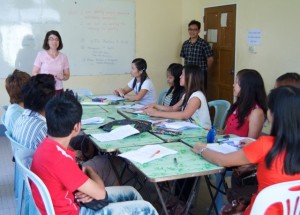 Opportunities for Nassau church members' involvement abound. The church school classes conducted a book drive this past spring, which produced several hundred books; we hope to make this an annual effort. Chenault Spence, chair of Cetana's board, and U Ba Win, a former vice president at Bard College who has worked very hard on behalf of educational issues in Burma and is now a member of Cetana's board, have offered sessions at adult education, illuminating the precarious but promising situation in Myanmar and describing Cetana's effort to meet critical educational needs. Church members were invited to a showing of Robert Lieberman's film "They Call It Myanmar," followed by a Burmese meal. More opportunities are to come. The mission committee invites your participation in this partnership. . . Attend an event, help with the book drive, provide modest financial support for a student learning English, offer to become an (email) pen pal with a Cetana student. . .or travel to Myanmar with Lois one January. The mission committee welcomes your ideas about how we can make this a vital partnership.