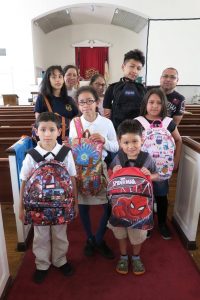 Like Christmas, a new school year brings excitement and lots of new goodies. The supplies add up. In 2017 the average family spent $179 per student, just too much for many families in our area. We are joining with Westminster Presbyterian Church, our partner church in Trenton, to provide 200 backpacks filled with essentials for local kids.
Help us fill backpacks by choosing an item or two to donate from our Back-to-School display on the Great Wall. Or contribute an amount to the Back-to-School Fund and we'll do the shopping:
---
Writer's Workshop, $15
(provides a 3-ring binder, loose leaf paper, composition books)
Pencil Case, $15
(pencil pouch, pens, pencils, highlighters, erasers, crayons, pencil sharpener)
Homework Pack, $45
(academic year planner, 1-subject notebook, index cards, glue sticks, portfolios, ruler)
Fully-Loaded Backpack, $100
(all above in a backpack)
Supply and monetary donations can be dropped off in the church office through Sunday, August 26. Make checks out to Nassau Presbyterian Church, noting "Back-to-School" in the memo line.