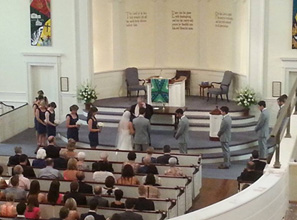 The marriage service is one of the most significant times in the lives of people. It is far-reaching in its implications and consequences, not only for the couple being married, but also for the families from which they come and for the larger community of which they are a part.
The Wedding Coordinator will work with you to secure a date. Please note that we will not temporarily hold dates and we require a minimum of six months notice for any weddings. We also require multiple sessions of premarital counseling with a pastor.
If you are interested in having your wedding at Nassau Church, please inquire with wedding coordinator, Melissa Martin (melissa.martin@nassauchurch.org, 609-924-0103 x102).
---
Helpful Information
For further information about weddings at Nassau Church, see our Wedding Booklet.
In order to begin planning your wedding, please complete our Information Form.
Please contact Noel Werner (noel.werner@nassauchurch.org), Director of Music, concerning music for your wedding.