You are invited to have a special place in the music of Christmas Eve. The Christmas Bell Peal is open to all, whether you are an experienced bell ringer or if you have never played before. Alumni of our children and youth choirs look forward to singing together every year for a special Alumni Choir on Christmas Eve.
Read on below about both opportunities.
---
Christmas Eve Bell Peal
Be a part of the annual Christmas bell peal at the 7:00 p.m. Christmas Eve Service. All players must attend the rehearsal on December 23 at 6:30 p.m.
Contact Lauren Yeh (x106, lauren.yeh@nassauchurch.org) to sign up.
If you have never played handbells before or if you want a refresher, contact Noel Werner (x104, nwerner@nassauchurch.org) to schedule some practice time.
---
Alumni Choir Sings Christmas Eve
Dear Nassau Choir Alumni,
This past August 2017, I began working at Nassau Presbyterian Church in the position of Associate Director of Choirs for Children and Youth. My family and I moved from New York City to Pennington in 2010, and shortly thereafter I began teaching Joyful Noise and served as an Elder on Nassau's Session. Having had many opportunities to collaborate with Sue Ellen Page on Christmas Pageants, Chancel Dramas, and the Singing Faith-All Day Long project, I felt the dedication and love she held for her music ministry, and for you, her former students. It is important to me now that I reach you, and invite you to return for Nassau's traditional Christmas Eve service.
Nassau Presbyterian will always be your church. It will always be the church where you sang in your youth, where you began friendships and grew the seeds of your faith through music and countless other ways. These experiences will always be with you, and my prayer is that you carry with you and remember what you sang – perhaps when it matters most. My own two children are now in Cantorei, and I have the same prayer for them as well as my nieces Lily and Amy Olsen.
I hope you will consider singing with us on Christmas Eve at the 7:00 p.m. service. We will rehearse on December 23rd from 7 – 9 p.m. and have some appetizers and refreshments at 6:00 p.m. so you have a chance to visit before we sing! Please come raise your voices with those of our current youth. They look forward to seeing you, and singing with you.
With anticipation of being together.
Blessings,
Ingrid Ladendorf
Associate Director of Choirs for Children & Youth
Nassau Presbyterian Church
Ingrid@nassauchurch.org
---
RSVP for 2017 Alumni Choir
Please use this form (click on the SignUp Genius logo) to let us know that you will be able to join the Alumni Choir on December 23 and December 24!  We're planning to begin with a social hour in the Assembly room at 6 pm on Dec. 23 (refreshments provided by our current Cantorei will be waiting!), followed by rehearsal in the Sanctuary from 7 -9 pm.  On Christmas Eve, our pre-service music will begin at 6:30 pm, followed by the 7 pm service.
We're looking forward to welcoming you, and being together for this special service. Thank you for coming.
Saturday, December 23
6 pm – Refreshments in the Assembly Room
(6:30 pm – optional Bell Peal Rehearsal in the Sanctuary, contact Lauren Yeh)
7 – 9 pm Rehearsal in the Sanctuary
Sunday, December 24
5:45 pm – Touch up rehearsal for whomever would like
6 pm – Warm up and quick review for 6:30 pm start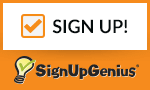 ---
Stay In Touch
Our youth choir alumni are invited to sing every year in the 7:00 p.m. Christmas Eve service. Join the Youth Choir Alumni email list to receive rehearsal and performance details.
We also invite you to follow the Nassau Youth Choir Alumni Facebook page.