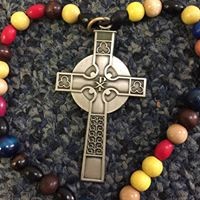 Dear Nassau Choir Alumni,
Fall greetings from Nassau! I hope this finds you well. I am writing to extend an open and heartfelt invitation should you be able to consider singing at our 7 pm Christmas Eve service this year. Whether you are currently singing, or it's been ages since you've sung, this letter is meant for you. There is a seat in the choir loft with your name on it here at Nassau, for as long as you would like to join us.
Some of you may be at the point in your lives where you would prefer to sit with your family to worship at this service, and I wholeheartedly understand. Just please know you are most welcome to join us in the choir loft, for all our singing that evening or for only the closing "Thou Shalt Know Him". We will have extra octavo on hand for you to join us at the end of the service.
Our pre-service and service music will be quite singable, and I look forward to sharing it with you at our rehearsal on December 23 from 7- 9 pm. Come early to enjoy appetizers, warm cider and visiting with friends, old and new! Drinks and food (hosted by our current Cantorei families) will be ready by 6 pm, and bell peal rehearsal will take place at 6:30 pm. (Bell Peal sign up is HERE.)
Let us know how many to plan for (food & music copies) by signing up online HERE.
If you would like, I would be delighted to mail you our music packet for the evening, just drop me an email and let me know. And of course, please feel free to reach out to me with any questions as well.
Blessings to you this fall in all you are doing!
With anticipation of being together,
Ingrid
---
UPDATED 13 December 2018:
2018 Christmas Eve 7 pm Service
Alumni Choir Anthem List & Audio Links

Pre-Service:
Worship Anthems:
---