NorthBay Middle School Week [June 29th-July 3, 2017]: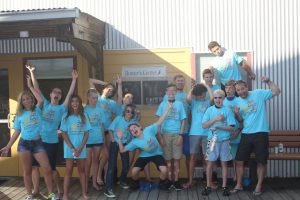 For the second year in a row, Nassau Middle Schoolers returned for "One Amazing Week" at NorthBay Adventure Camp on the Chesapeake Bay, near North East, MD. The week, run and hosted by Young Life, was a non-stop 4 days with live music, super funny skits and high energy activities such as sailing, a ropes course, swimming, kayaking, gaga ball, dodge ball, & scavenger hunts.  Throughout the week the 13 youth and 3 chaperones were challenged by camp speaker Alberto to view our lives as made by God for a relationship with God. Like a glove that is made for a hand, our lives are made to be filled by Christ's love and guidance. We also heard from fellow teens about their "Real Life" experiences of friends, family, & faith. Through conversations and activities with Mark Edwards, Kelsey Lambright & Austin Vernon, our kids were encouraged to take their faith seriously and to live it out in the community of the church and beyond.
---
Appalachian Service Project, Trade, TN [July 9-15, 2017]: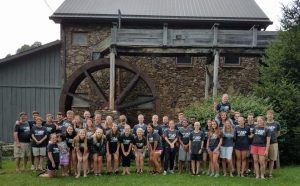 For our fourth year in a row (5th total) Nassau joined ASP to repair low-income homes in central Appalachia. This year we were in Trade, Tennessee, near Boone, NC. This trip continues to grow and we brought 39 people in five teams to work on a wide variety of  roofs, floors, siding, foundations, and remodels. The Trade Community Center where we stayed proved to be a lovely home for the  mild-temperature week and we all enjoyed the simple evening communal life of walks, frisbee, talks, and cards. Through the  graciousness of Nassau Missions Committee, giving at Youth Sunday, youth fundraising (Super Bowl Sunday & Communiversity), and a special event hosted by the Wakefields, NPC was able to donate $5000 directly to ASP to help support their material cost, thus  enabling more families to have work done on their homes.
---
Camino de Santiago, Spain [July 22-Aug. 6, 2017]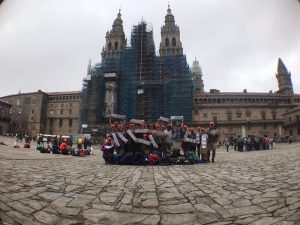 For the first time a group of twenty from Nassau walked nearly 200 miles along this medieval pilgrimage route in Northern Spain (aka "The Way of St. James"). For 11 consecutive days we walked, lived, ate, and prayed together amidst the beautiful scenery and  hospitable culture of Galicia, from Astoria to Santiago. The group matched a slow reading of Matthew's Sermon on the Mount with  Taize songs, quiet times, and group conversation to guide our minds and souls as we journeyed from village to village and albergue to  albergue. The joys of the trip included the intergenerational nature, the familial elements, the overall simplicity, and the life absorbing  task of simply walking together under God's fine graces. Participants shared their experiences in Nassau Worship on August 27th.  Sermons are here: Going Out and Coming In
---
Return to Youth Trips 2018