Repairing Homes. Transforming Lives
---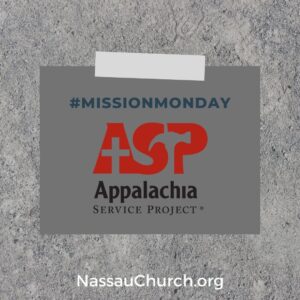 warmer. safer. drier.
Over the past decade Nassau Presbyterian Church has sent more than 150 members – youth and adults, experienced and beginners – to work on projects for ASP, Appalachia Service Project. Due to the Covid-19 pandemic we have not been able to participate since 2019 but look forward to the next opportunity.
On Youth Sunday we take up a special collection to support the work of ASP and this year is no different. Please join us in support of this group. Choose "ASP" from the Fund drop down box.
---
Over 50 Years of Repairing and Replacing Homes in Central Appalachia
We accept people right where they are, just the way they are. – ASP Founder Glenn "Tex" Evans
More than 25 communities are served by ASP each year
More than 350 families are impacted through ASP each year
More than 3,000 repair projects are completed by volunteers each year
More than 20 new homes are built and gifted each year
More than 15,000 volunteers serve with ASP each year
ASP repairs roofs, walls, floors, foundations, and bathrooms, in addition to making homes accessible through porch and ramp repairs or additions
Learn more:
---
Follow #MissionMonday on our social media platforms to hear about how, with your help, Nassau Presbyterian Church is supporting others in our town, our state, and across the world.