…until all are fed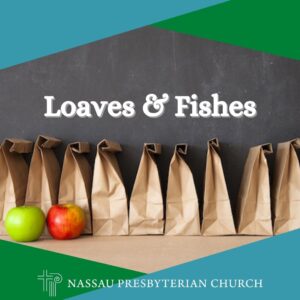 The summer is heating up, and plans for the annual Loaves and Fishes is underway! That means we need bag lunches and cookies to feed approximately 100 guests at St. Mary's Cathedral in Trenton on Saturday, August 20.
We are again requesting your help in the largest annual mission event of Nassau Presbyterian Church.  More people participate in Loaves and Fishes than any other mission project at NPC.
While we do not need the large group of volunteers to serve the meal in Trenton, we do need lots of volunteers to prepare some things in advance and drop them off at Nassau Church on Friday, August 19, 5:30-7:30PM
 We need 150 packed bag lunches that our guests will take away when they leave.  For the peanut butter and jelly sandwiches please put peanut butter on both pieces of bread – it helps the sandwich last longer since it may be a couple of days between preparing the sandwich and consumption.
We also need 100 individually bagged brownies that will be distributed as the dessert to the hot meal being served. Each brownie should be about 3″ x 4″ in size and about 1″ thick.. This is 12 brownies cut from a 9″ x 13″ pan.
Download a PDF of the instructions or the meatloaf recipe and directions to St. Mary's Cathedral:
Instructions (pdf) Recipe & Directions (pdf)
Watch Scott Harmon's video on how to pack a bagged lunch!
---
With many hands, we are confident that once again, Nassau Presbyterian Church will show the love of God to our neighbors in need.
Thank you in advance for your assistance,
---