---
On Life's Journey
---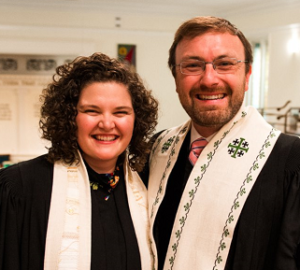 Princeton Presbyterians of the Westminster Foundation is a non-profit organization committed to the faithful discipleship of undergraduate and graduate students in Princeton. Andrew & Len Scales have been serving as the Presbyterian Chaplains at Princeton University and Executive Co-Directors of the Westminster Foundation for the last five years. In their role, they also serve as adjunct pastors at Nassau Presbyterian. Nassau is a long-term partner of the Westminster Foundation and continues to make the ministry of Princeton Presbyterians possible.
Over three weeks in May, hear from current students and young alumni about their connections with Princeton Presbyterians and the impact of faith on their vocational paths. We travel together "On Life's Journey."
For more information about Princeton Presbyterians visit princetonpresbys.org.
---
---
May 23 | Andrew Scales with Jon & Lydia
This week, Andrew Scales moderates a conversation with Princeton Presbyterians board members Jon Ort '21 (PU) and the Rev. Lydia Tembo '19 (PTS) about the ways justice concerns inform their faith and their calling to Christian ministry.

Jon is a member of the Great Class of 2021, recently the Editor-in-Chief of the Daily Princetonian newspaper, and a recipient of this year's Spirit of Princeton Award. He has served as a member of Princeton Presbyterians' Undergraduate Leadership Team and the board. Jon will attend Yale Divinity School this fall.
Lydia is an ordained Presbyterian minister and the Assistant Director of Recruitment at Princeton Theological Seminary. During seminary, she traveled with Princeton Presbyterians to the Taizé Community in France and worked as a field education intern with Princeton University's Office of Religious Life. Lydia serves as a board member with Princeton Presbyterians and More Light Presbyterians.
---
May 16 | Slats Toole with Becca & Lafayette
This week Slats Toole (they/them) moderates a conversation with Rebecca Bedell (she/they) and Lafayette Matthews (he/his). Listen in and be inspired by their conversation about Christianity, queerness, and sustaining faith.
Slats is a queer/trans/nonbinary Presbyterian. They hold a Bachelor of Fine Arts in Drama from NYU and a Master of Divinity from Princeton Theological Seminary (Class of 2016). They most often work as a writer, theater director, sound designer, and/or pastor.
Rebecca & Lafayette are a part of the Princeton University Class of 2017. Rebecca serves as the Coordinator of Residential Programs at Pres House Apartments, a PC(USA) campus ministry. Lafayette just completed his first year at Georgetown Law.
---
May 9 | Len Scales with Trina & Jonathan
Len Scales moderates a conversation with Trina Swanson '20 (PU) and Jonathan Wang '21 (PU). Hear about their commitment to the health and well-being of neighbors both internationally and domestically.
---