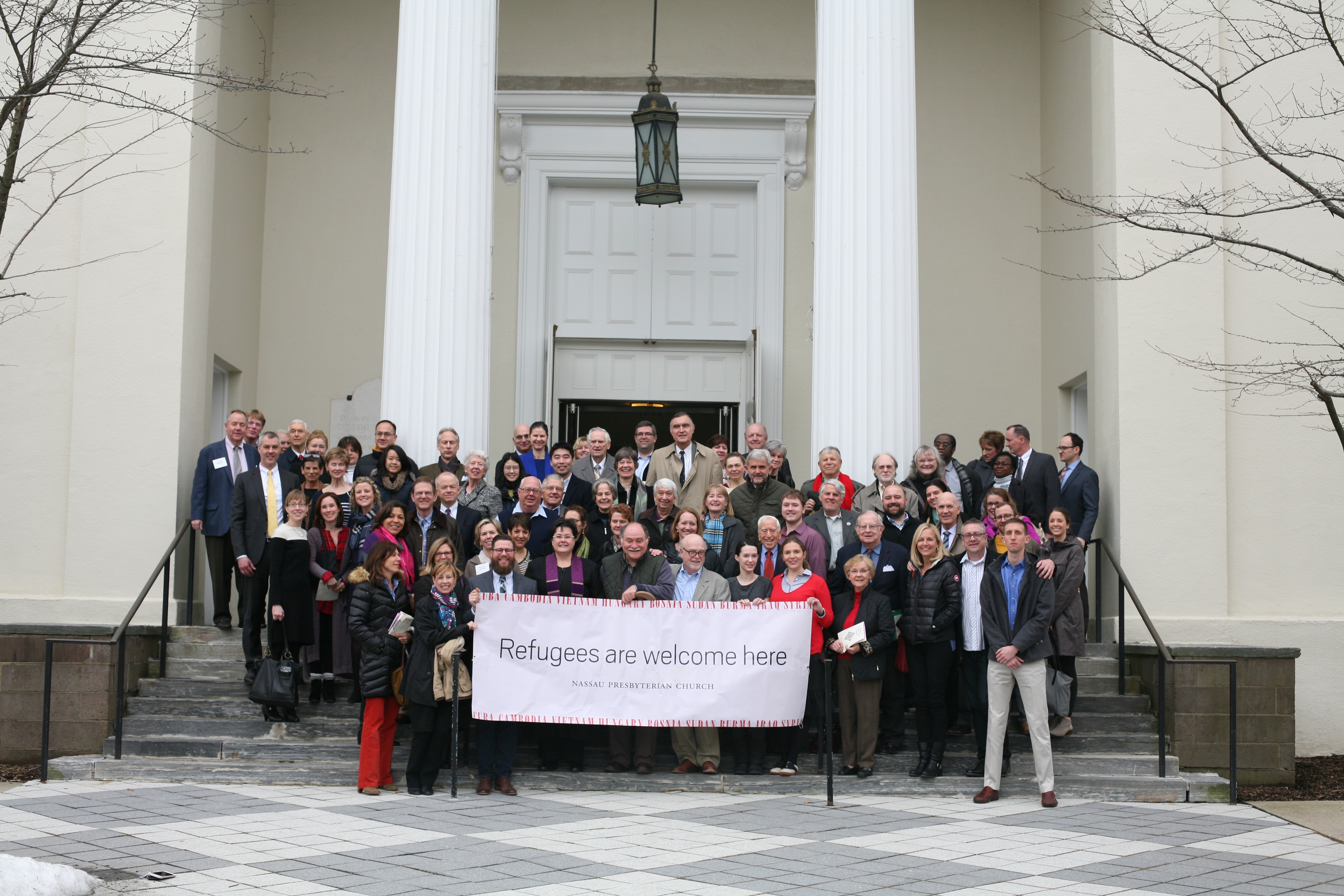 Over the past 60 years, Nassau Presbyterian Church has sponsored and welcomed 12 refugee families from such countries as Bosnia, Burma/Myanmar, Cambodia, Cuba, Hungary, Indonesia, Iraq, Sudan, Syria, and Vietnam.
The congregation helps families find housing and medical care; enrolls children in school and serves as their advocates; supports the adults with ESL tutoring and job searches; provides modest help with start-up expenses; and assists in getting governmental assistance benefits to which refugees are legally entitled.
---
Contacts
Interesting in learning more or participating? Please reach out to the appropriate contact.
[ezcol_1half]Pastor Dave Davis

Biblical justification
Congregational impact
NPC refugee resettlement tradition
Partnerships
Princeton Theological Seminary relationship
Sanctuary[/ezcol_1half]
Car donation and title transfer
Driving instruction
Finance
Housing
Islamic Society of Central Jersey relationship
Public assistance
Publicity
Referral agency relationship
Scheduling
Social Security
SSI assistance
Translation[/ezcol_1half_end]
Counseling
Employment
English as a Second Language
Princeton University relationship
Recreational activities
School and after-school program
Telephone[/ezcol_1half]
Dental
Disability mobility and vocational training
Medical
Vocational evaluation[/ezcol_1half_end]
---
Stories and Resources
Take a look below for stories about our efforts and resources we've put together for those interested in understanding more about refugee resettlement. Click through to read or download the linked documents.
---
Nassau Presbyterian Church, rev(3). December 2018. PDF.
---
Associate Pastor Cynthia Jarvis, Nassau Presbyterian Church newsletter, April 28, 1994. PDF.
---
Tim Irwin, UNHCR, March 18, 2008. PDF.
---
Pastor Dave Davis, December 4, 2015. PDF.
---
Pastor Dave Davis, January 14, 2016. PDF.
---
Deborah Amos, NPR, September 17, 2016. PDF. (Also available on NPR.org)
---
Deborah Amos, NPR, November 24, 2016. PDF. (Also available on NPR.org)
---
Tom Charles, March 17, 2017. PDF.
---
The Daily Princetonian, September 27, 2017.
---
Deborah Amos, NPR.org, January 1, 2018.
---
Deborah Amos, NPR.org, April 12, 2018.
---
Jonathan Blitzer, The New Yorker, May 1, 2018.
---
Liz Robbins and Miriam Jordan, The New York Times, May 16, 2018.