The Bending the Moral Arc webinar recording and resources are now available online:
Read the Article
During a webinar this week, lay leaders from two congregations — one predominately Black, the other primarily white — shared how their conversations about race and justice in the past year have strengthened their resolve to learn more about systemic racism. They also discovered what they can do together and as individuals to bend the moral arc toward justice.
Read more online (link)
Bending the Moral Arc Manual
The Bending the Moral Arc manual, written to encourage and assist others in creating race and justice ministries in their own communities, includes sample conversations and other resources and tools.
Download the Manual (pdf)
---
Watch the Webinar
---
Two congregations came together in partnership around the invitation of Matthew 25 to have courageous conversations and to take steps towards dismantling structural racism. They were transformed!
---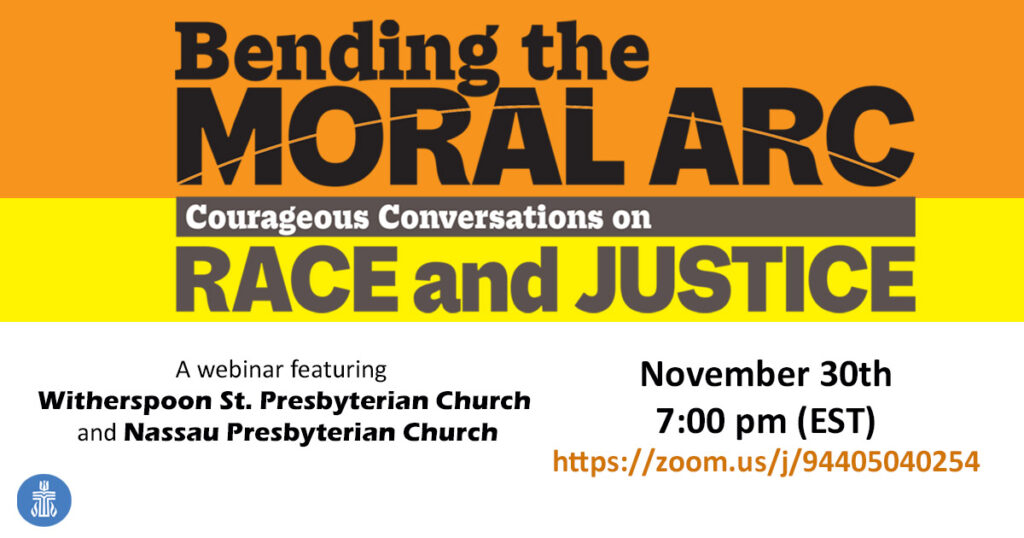 We will hear from these churches, one predominately white and one historically black, that developed a small group model for conversation and action, all during the pandemic and on zoom! Leaders from Nassau Presbyterian Church and Witherspoon Street Presbyterian Church in Princeton, New Jersey will be present to share their story and best practices as you learn to translate this model to your own context.
A template for this small group ministry partnership has been created and will be available as a FREE download during this webinar. Background, tips for creating your own ministry and sample lessons and resources will be included. There will be break-out groups and a Q and A.
All church leaders are welcome to attend.
---
Tuesday, November 30, 2021 | 7pm-8:30pm (EST)
No registration necessary. Join us on zoom using this link: https://zoom.us/j/94405040254
This webinar is hosted by Theology, Formation and Evangelism in the Presbyterian Mission Agency and is part of our Scattered Church ministries.