Our Superintendent would be happy to outline the various options available for you and your family.
---
Ground Burial Services
Despite its active use for over 250 years, a limited supply of burial lots and graves remain available in the cemetery. These lots vary in size from single and double graves to larger plots.
Monuments are subject to size and design requirements, as spelled out in the Rules and Regulations listed in our Policies section.
Lots may be purchased at any time. A deed recording the purchase is prepared by Nassau Presbyterian Church and sent to the owner within 60 days of purchase. Such deed should be retained by the owner as proof of purchase.
---
Cremation Services
Many options are available for the respectful treatment of cremated remains, ranging from ground burial, either in a bio-degradable urn within the Pardee Garden (see more information below); in a separate burial lot, cremation or full size or with a loved one; or in permanent storage in a personal columbarium.
---
The Pardee Memorial Garden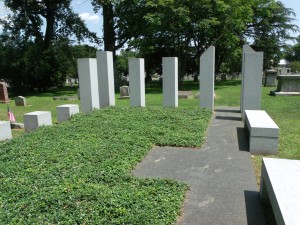 The Pardee Memorial Garden was created through the generosity of the Pardee family, and in honor and memory of their family members. The vision that led to the Memorial Garden allows the historic Princeton Cemetery to continue its legacy of providing an inclusive, non-denominational burial ground for the community, far into the future.
The Pardee Memorial Garden embraces modern solutions to provide environmentally sensitive, responsible and thoughtful burial of ashes in biodegradable earthen urns. Inscriptions of names and dates of birth and death are carved on the beautiful granite columns, which are designed to inspire a peaceful, contemplative, and sacred open-air space.
The Pardee Memorial Garden is located in one of the oldest areas of the Cemetery, on land donated by Paul Tulane. It is within this historic parcel where Grover Cleveland, the 22nd and 24th President of the United States, is buried.
The contemporary design of the Memorial Garden, sited among historic and traditional gravestones and monuments, as well as the sustainable nature of the earthen urns used for the interment of cremated remains, reflects the respect for the past, and regard for the future, that has always been a hallmark of the historic Princeton Cemetery. The Pardee Memorial Garden was designed by Jeremiah Ford, III, Ford3 Architects.
Interment costs include a two-line inscription of the name and dates, for each individual, on the granite columns of the Pardee Memorial Garden.
Names are inscribed in a pattern and style designated by the Cemetery Committee of the Nassau Presbyterian Church. The physical placement of earthen urns within the Memorial Garden, are unmarked, and interments occur at a time determined at the sole discretion of the Cemetery Administration.