Understanding Syria Through Syrian Stories
…an oral history of the Syrian conflict based on interviews with more than 300 displaced Syrians across the Middle East and Europe since 2012.
7:00 p.m., Assembly Room
Nassau Presbyterian Church
Download an Event Poster (pdf)
How can we make sense of the tragedy in Syria? For years, headlines carry reports of ISIS, chemical weapons, refugees drowning in the sea, and one of the worst humanitarian crises of our times. In the rush of breaking news, however, it can be difficult to get the full picture of the whole conflict is about. Called "essential reading" by the New York Times, We Crossed a Bridge and It Trembled: Voices from Syria offers that vital background, exclusively in Syrians' own words. Prof. Wendy Pearlman spent five years carrying out hundreds of interviews with Syrians across the Middle East and Europe to chronicle the origins and evolution of the Syrian war through the stories of ordinary people who have lived its unfolding. Please join Wendy for a discussion about Syria based on her acclaimed new book.
Copies will be available for sale at the event and Wendy will be available briefly afterward to sign them. Copies will also be available between Sunday Services at Nassau Presbyterian Church on October 21, 28, and November 4.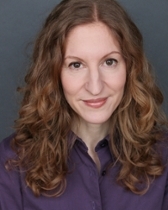 Wendy Pearlman is the Koldyke Outstanding Teaching Associate Professor of Political Science at Northwestern University, where she specializes in Middle East politics. She is the author of four books, as well as dozens of articles, essays, and book chapters. Wendy earned a PhD from Harvard  University and a BA from Brown University, and has conducted research in Spain, Germany, Lebanon, Jordan, Turkey, Israel, and the West Bank and Gaza Strip.
---