---
Summer 2017 was "Gospel on the Go." We learned stories from the Book of Acts, and how the disciples spread the Good News of Jesus Christ to new lands and new people.
---
Vacation Bible School 2018
"David, the Shepherd King"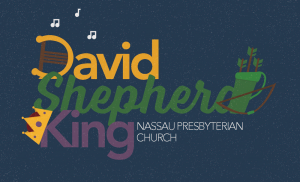 A young shepherd boy becomes king of all Israel. Chosen by God, this almost-overlooked youngest son grows up to be the hero of the Jewish nation. Hear how he is chosen and how he becomes a powerful king.
---
Vacation Bible School
Age three through rising Grade 6
Monday, June 25 – Thursday, June 28, 2018
9:00 AM – 12:00 PM, $30 per child
Registration is open above.
Children enjoy an exciting and educational week-long morning program with music, recreation, arts and crafts. and an emphasis on Bible stories.
---
PresbyCamp
Rising Grades 4 to 6 (add on to VBS)
Monday, June 25 – Thursday, June 28, 2018
12:00 PM – 3:30 PM, additional $25 per child
Register via VBS form above.
The fun and fellowship continues for older children with a mission focus. PresbyCampers go on field trips and engage in local mission projects.
---
Volunteers
Vacation Bible School has been a meaningful ministry to the children of this church and our larger community for decades. We've got a great thing going! Please sign up and join us in ministry and memory-making for our next generation.
---
Contact Corrie Berg (609-924-0103 x 108, corrie@nassauchurch.org) with any questions about Vacation Bible School, PresbyCamp, or volunteering.