This year we're going "Virtual"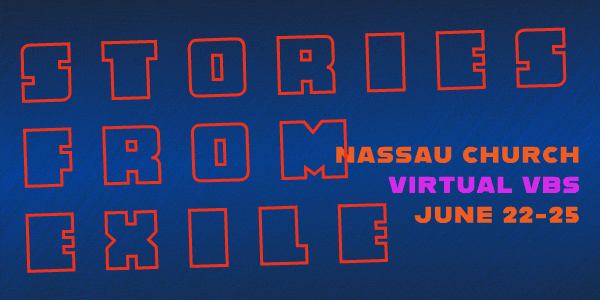 All your favorite Vacation Bible School activities (Stories, Songs, Games, Crafts) delivered to your computer in a daily email, June 22 – 25.
---
During VVBS Week (June 22-25) you'll be able to find links to the daily emails here:
Upload pictures of VVBS at Your House: Upload Videos and Artwork to Share
---
Nassau Next Gen
Nassau Next Gen, the Children's and Family Ministry newsletter, comes to your inbox every other week with updates and upcoming events.
See the latest edition of Nassau Next Gen under News from Nassau.
---
Contact Nassau Staff:
Corrie Berg (email Corrie, 609-924-0103 x 108)
Lauren Yeh (email Lauren, 609-924-0103 x106)
Watch the Celebration Playlist:
---
---
---