---
NorthBay Middle School Week [June 27 – July 1, 2019]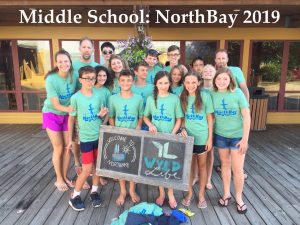 Seventeen of us spent an energetic and cross-centered week at NorthBay Camp on the Chesapeake Bay in MD, run by Young Life's middle school ministry.  Returning for our fourth year, the group enjoyed the bubble soccer, theologically rich talks, swimming, and good cabin time discussions.
Led by Mark Edwards with Madeline Baas (PTS Field Ed 2019-20), Jordan Goodwin (PTS Grad '19), and Scott Harmon.
---
Appalachia Service Project in Charmco, WV [July 7-13, 2019]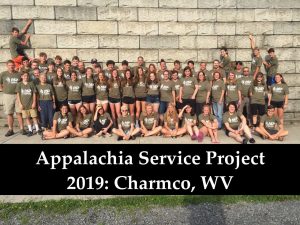 Fifty-six of us spent a hard working week in Greenbrier County working on homes in Rainelle, Charmco, and the neighboring towns.  We had seven teams, our largest number yet, chaperoned by Ron & Sally Zink; Rachel Gilmore & Kelsey Lambright; Julie Swanke & Scott Harmon; Katie Gallagher & Jonathan Milley; Claire Mulry & Doug Ladendorf; Alli Fay, Martin Tel & Noel Werner; Jacq Lapsley & John Parker; with Mark Edwards as trip leader and Nick Isder (PTS Grad '19) as additional support.
The trip continues to grow in a way that fosters pure hearts, neighborly love, and appropriately sore backs.
---
France: Taizé + Paris  [July 17-29, 2019]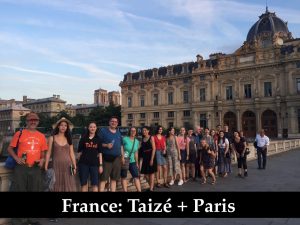 Seventeen youth and adults from Nassau Presbyterian were joined by three from Pennington Presbyterian for a week of spiritual pilgrimage to the ecumenical and international Taizé Community.  While we spent time enjoying the theological and cultural riches of Paris, the highlight of the trip was a full seven days camping in the French countryside and enjoying the artistic worship and prayerful community of the Taizé brothers and their approximately three thousand guests.
The trip was led by Mark Edwards and chaperoned by Richard Davis (PTS), Kate Harmon, BJ Katen-Narvell, Ingrid Ladendorf, Kelsey Lambright, and Ted Borer of Pennington.  Frances and Nicos Scordis and Bill Narvell joined us in Paris.
---