Vice President of the United States and Senator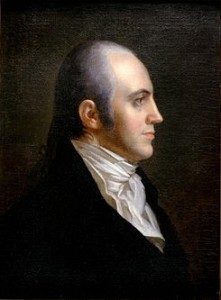 Born on February 6th, 1756, in Newark, Province of New Jersey
Died on September 14th 1836, Staten Island, New York
Biography:
Aaron Burr Jr. was born to a Presbyterian Minister and President of the College of New Jersey (now Princeton University), his father died just 19 months after his birth, while his mother and grandparents died a year later in 1793. At the age of 13 he enrolled in the College of New Jersey and graduated 3 years later with Summa Cum Laude. Directly after graduating he enrolled in Litchfield Law School in Connecticut until 1776 when he took a break from studying to fight in the Revolutionary War for the Patriots.
He served under Benedict Arnold's men in their expedition to Quebec, achieving the rank of Major and was appointed to serve under George Washington. After a brief service in Washington's staff in New York, Burr transferred to General Israel Putnam's staff until the end of the war in 1779. After the war, he returned to studying law, and opened up a successful law firm in Albany, New York which he moved to New York City and remained there for the next 6 years. A successful lawyer, in 1789 he was appointed Attorney General of New York.
In 1791, Burr ran for a U.S. Senate seat against General Philip Schuyler, later rival Alexander Hamilton's father in-law. Burr won and served in the Senate for 6 years until Schuyler beat him and took his place. Nine years later Burr decided to run for president against Thomas Jefferson. Both candidates received the same amount of electoral votes so it was left to the House of Representatives to decide the winner. At the time, the runner-up in the presidential election became Vice-President, unlike today where the President and Vice-President run on the same ticket. Continuing a long-lasting feud, Alexander Hamilton, a prominent figure in Washington, slandered Burr, costing Burr the election. After being forced to accept the position of Vice-President, Burr retaliated against Hamilton, claiming that he had tarnished his reputation with lies and cost him votes.
As his vice presidency came to an end, he ran for the governorship of New York but lost. Once again he blamed Hamilton for swaying voters away from him. This was to be the last straw between the two. In probably the most famous event of his life, Burr challenged Hamilton to a duel over his personal honor. On July 11, 1804, the two met in Hoboken, and once the smoke from the pistols cleared, Hamilton was on the ground and Burr walked away victorious. The public accused Burr of murder but he was acquitted on all charges.
Shortly after Burr presided over the impeachment of Samuel Chase, an associate justice of the Supreme Court – in Washington DC, Burr had immunity for Hamilton's murder – he began hatching a plan to invade the newly purchased Louisiana Territory (purchased from France in 1803). Burr approached British diplomats to get their backing, and though his proposals were turned down, he succeeded in gaining the support of James Wilkinson, Commander-in-Chief of the US Army and Governor of the Northern Louisiana Territory. Unfortunately for Burr, the invasion failed because Wilkinson betrayed him, and in 1807, he was captured a few miles from Florida. Interestingly, Burr was found innocent of treason and that fall, he fled to Europe. After unsuccessfully touring Europe for 5 years where he tried to gain support for his plan to invade the Louisiana region, Burr returned to America, with his finances and political career in ruins. He tried to restart his old law firm in New York and succeeded with moderate success. However, as his health deteriorated, he relied more and more on his friends financially in and 1830, suffered a series of strokes and became partially paralyzed. He died in 1836 under the care of his cousin in Port Richmond, Staten Island.
Relation to Princeton:
Aaron Burr, Jr.'s life with Princeton began with his father, Aaron Burr, Sr., a distinguished educator and theologian, he was educated at Yale and married to the daughter of another famous theologian buried in the Princeton Cemetery, Jonathan Edwards. In 1746, Burr Sr. and several similarly-minded associates founded the College of New Jersey, and became its second president. Burr Sr. personally oversaw the construction of Nassau Hall in his tenure (1748-57), and served as its youngest president at the age of 32. A child of Princeton, Burr Jr. spent his much formative years, including his college schooling, in the town and its burgeoning university (then college). He was buried in the graveyard, along with his father and mother, as well as his grandfather, Jonathan Edwards, who succeeded Burr's father as president of the college.
Further Reading
http://www.biography.com/people/aaron-burr-9232241#final-years
http://www.britannica.com/EBchecked/topic/85757/Aaron-Burr
http://www.pbs.org/wgbh/amex/duel/peopleevents/pande01.html
http://www.notablebiographies.com/Br-Ca/Burr-Aaron.html