Collage birds and portraits by NPC Artist-In-Residence, Trudy Borenstein-Sugiura, will be displayed in the Conference Room Gallery. Originals and giclees (fine art photographs) will be available for sale, and private commissions accepted.
Trudy's artistic output was originally focused primarily on jewelry design and goldsmithing. All the while, she has had a lifelong devotion to paper and has saved, catalogued and hoarded report cards, postcards, travel brochures, invoices, documents, medical records and books of travels, important personal events and several generations of her family's ephemera.
After the death of her mathematician father, her longstanding interest in paper collage was rekindled; she wanted to make use of and honor his personal papers and writings to make a collaged momento mori portrait of him. This set her on a new path on which she have been traveling since. She is continuing that path with us, creating a large collage from materials submitted by our congregation.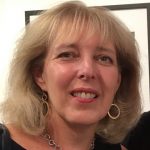 In the last 4 years, her work has been exhibited in group and solo shows in NYC, LA, Chicago, Denver, Cincinnati, Princeton, the Nassau County Museum of Art and the Hamptons, and many commissioned portraits are included in several private collections.
See more online: https://trudy-borenstein-sugiura.squarespace.com/