The Latin American Legal Defense and Education Fund
Incorporated as a 501(c)(3) organization LALDEF is a community-based, grassroots, nonprofit that grew out of a Princeton community-based coalition known as the Latin American Task Force which had been helping the Princeton Latino community in various ways for well over a decade.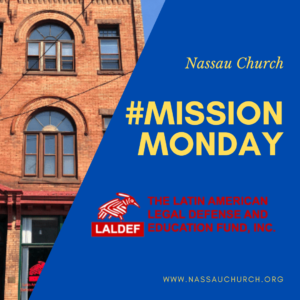 In 2004, after seeing the growing marginalization and stresses on the local Latino community, a group of concerned Mercer County area residents joined together to take a proactive approach to address these concerns and formed the Latin American Legal Defense and Education Fund, Inc. (LALDEF). Initially an all-volunteer Princeton-based, largely advocacy effort working out of borrowed space in a church basement, LALDEF has grown into a dynamic, staffed organization, providing services and case management while staying true to its advocacy mission, with the Welcome House in Trenton as its center of operations. Members of LALDEF's Board are a diverse cross-section of our community, representing a variety of socioeconomic, professional, cultural and ethnic backgrounds.
To learn more: LALDEF
---
Follow #MissionMonday on our social media platforms to hear about how, with your help, Nassau Presbyterian Church is supporting others in our town, our state, and across the world.