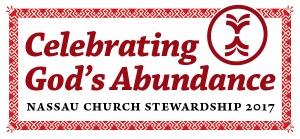 ---
Our season of prayer and discernment regarding our financial commitments to Nassau Church for 2017 is underway. Consecration Sunday will be November 20. Please plan to present your pledge for 2017 in worship then.
For more information on stewardship at Nassau, please contact Linda Gilmore, Business Administrator (609-924-0103, linda.gilmore@nassauchurch.org).
---
Make a Pledge
Please consider joining us in supporting our daily ministry and mission. Download a 2017 Pledge Form (this form may be submitted electronically or printed and submitted – please install Adobe Reader for full functionality of the form) or pick up a copy in the literature rack outside the church office.
You may also pledge through My Nassau. Log in and click on the "Pledge Now" button. Choose "Operating Fund" and set the dates for 1/1/2017 to 12/31/2017 (note: the amount you enter will be multiplied based on the frequency you select).
---
PC(USA) Per Capita
The denomination's per capita cost for 2017 is $32.98 per member (confirmed youth and adults). Please consider donating your per capita to help offset this charge from the denomination, which underwrites the General Assembly, the Synod of the Northeast, and the Presbytery of New Brunswick.