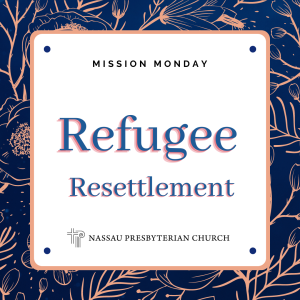 In the midst of this season of Advent, we are pleased to offer a Minute for Mission with a brief update on the family from Afghanistan that Nassau Church has sponsored for resettlement in Princeton.
It's hard to believe, but we're coming up on the one-year anniversary of their arrival in Princeton. On behalf of the coordinating committee, which includes Sue Jennings, Tom Charles, Lauren Valvanis, and Len Scales, we offer a sincere "Thank You" to the congregation. We are so grateful for those who have helped in this effort as volunteers and to all who have contributed to the Nassau Church Refugee Resettlement Fund.
---
So many of you have served as volunteers over this past year – by rough count, the total number of volunteers is well over 50, and you've donated over 1,800 hours of volunteer work this year, plus much more behind the scenes that we'll never know about. It's a gift of love, and we are very thankful.
As many of you may remember, the Hashimi family was kind enough to share their story in compelling detail during an adult education class on October 2nd. A recording of that session is available on the Nassau website (link).
---
They recently celebrated Thanksgiving and are grateful that their new home and all the support they've received in building a new life in the United States. And it really is remarkable how much progress they have made over this past year: they have successfully enrolled the younger children in local schools, found jobs for the older ones, made progress in learning English, navigated the health care system to get vaccinations, dental and other medical care, met the requirements to get drivers licenses, and one family member has even begun to take college classes.
With the help of a lawyer arranged with Nassau's help, they have completed the arduous application process for asylum in the United States. They are now awaiting news about whether they have been approved. We have reached out to our elected representatives to ask for their help in expediting their application and hope they will hear good news about their approval within the next few months.
Unfortunately, the family is still awaiting news of approval for the father, Said Ahmad, to join the family in the US. He was not in Kabul when the city fell, and therefore wasn't admitted along with the rest of the family. He has applied for humanitarian parole status and is also applying under other programs that may lead to him being able to enter the US. We spoke to him by Zoom yesterday, and he sends his greetings and thanks. I'm eager for you to get to meet him.
---
There are at least two additional challenges facing the family. The first is an important educational hurdle. One of the older sisters is working hard to earn a high school equivalency degree. She was on the verge of finishing high school when they had to leave Kabul and her credits were unable to be transferred.
The second relates to their housing. The family currently lives in a house generously provided by the seminary, but we will need to help them to find a new place sometime early next year.
We ask for your continued prayers for the family as they deal with all of these challenges.
We also ask you to consider a year-end gift to Nassau Refugee Resettlement fund. We have covered the expenses incurred thus far from past donations, but we need to rebuild that fund so that it is available for any future needs for this family, as well as to be in a position to welcome to a future refugee family when the time is appropriate.
Thank you for continuing to surround the Coordinating Team with support and the family with love!