Sunday, April 30, 2023, 3:00-4:00 PM
Jewish Center of Princeton, 435 Nassau Street
No fee, but registration is required.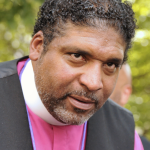 We would be honored to have you join with community clergy, social justice activists, leaders and elected legislators, and friends as we welcome the visionary and distinguished BISHOP WILLIAM J. BARBER II to Princeton. This is not a fundraiser; there is no fee for attendance, but pre-registration is required to ensure your seat.
Bishop Barber will deliver the 33rd Annual Amy Adina Schulman Memorial Lecture in remembrance of our daughter who was born in Princeton, educated in our public schools, was very involved in social justice activities, but died suddenly at age 20 from a brain aneurysm. These memorial lectures continue her life's commitment to peace and equality.
The renowned Bishop Barber's talk is a most timely and critical one for all of us in Princeton, surrounding areas, and across the U.S. – strategies for effective interreligious collaboration and deepening solidarity; building sturdy bridges to advance lasting racial, economic, and environmental equality, justice, and security. (If somehow, you've not heard of Bishop Barber, do check online to read his amazing history of activism, extraordinary honors, his pastoral work, and most recently his appointment at Yale's Divinity School as Director of the Center of Public Theology and Public Policy.)
This 33rd Annual Memorial Lecture will be held at The Jewish Center of Princeton, 435 Nassau St., Princeton. The synagogue has large but limited seating and parking capabilities. We have learned to require prior registration to ensure a smooth seating procedure.
Please register to ensure your seat: https://aasmf2023.eventbrite.com
Ruth Schulman, Chair
AmyAdinaSchulmanMemorialFund.org