Sundays, 3:30 – 5:00 PM, Room 301, beginning March 26
George Hunsinger continues the adult Bibe study with a verse-by verse examination of Paul's Letter to the Galatians. In this epistle, the Galatian congregation wrestles with salvation by grace through faith — as opposed to "works of the Law." . As usual, Paul offers compelling good news in his understanding of the cross, the resurrection, worship, and Christian hope.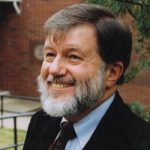 George Hunsinger is Professor of Systematic Theology at Princeton Theological Seminary. He is the founder of the National Religious Campaign Against Torture. This is his 24th year of leading this in-depth Bible study at Nassau! New participants are warmly welcome.