October 22 – November 19, 2023
9:30 a.m. | Assembly Room
Ways to Pray: in the Old Testament and Today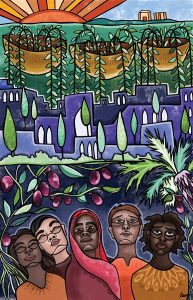 This fall we turn to the Old Testament for our Linked-In Learning. Presenters were given a list of prayers in the Old Testament and asked to select one as the focus for their presentation, using this prayer to consider their own prayer life. Hearing from others will, we hope, broaden your prayer life along with your knowledge of how God's people in the Old Testament communicated with God.
Prophets, kings, and faithful followers of God with little power or presence all speak to God and wait for a word from God. Their prayers remind us of the importance of acknowledging God's presence in our lives and the time necessary to build this relationship with our Creator.
---
Audio recordings will be posted below each class description.
---
October 22
Daniel Prays Faithfully (Daniel 6:10-15)
Len Scales serves as the Associate Pastor for Faith Formation, Mission, and Outreach. She also serves part-time as the Executive Co-Director of the Westminster Foundation and Presbyterian Chaplain at Princeton University. She deeply appreciates the diversity of God's people and is excited to work alongside members of Nassau, students in Princeton, and Nassau's mission partners.
---
October 29
Solomon Prays for Himself (1 Kings 3:4-15)
Amir Samir is an associate pastor at the Heliopolis Evangelical Church (HEC), the second biggest Presbyterian Church in Cairo, Egypt. His ministry is mainly focused on pastoral care ministry. This year he is on a sabbatical leave from his home church as he joins his wife, Dina Bishay who is pursuing a doctoral degree in Christian Education at Princeton Theological Seminary.
---
November 5
Solomon Prays for Others (1 Kings 8:22-53)
Kathie Sakenfeld retired from the Princeton Seminary Old Testament faculty in 2013. Her special interests are the Pentateuch and stories of women throughout the OT. An ordained PCUSA clergywoman, she has participated in the life of Nassau Church since 1970 and has served the denomination at Presbytery, national, and international levels. She currently serves on Nassau's Adult Education Committee and on the Nassau-Witherspoon Street partnership team.
---
Class Handouts:
---
November 12
Hannah's Prayer Praises God (1 Samuel 2:1-10)
Frances Katrishen has had an increasing interest in the Holy Spirit, prayer and spirituality leading her to a degree from General Seminary in New York. At Nassau Frances has led a deacon prayer ministry and she currently serves as a ruling elder, sings in the choir, and is a member of the "Adventures in Barth" small group.
Unfortunately the audio recording is not available.
Class Handouts:
---
November 19
We Pray in Silence (Habakkuk 2:1-2)
Tom Coogan and his wife Beth have been Nassau Church members since the early years of this century. He has served as deacon, elder and softball coach. Hear about Tom's spiritual exercises and explore your own.
---