"When I was a boy and I would see scary things in the news, my mother would say to me, "Look for the helpers. You will always find people who are helping." ― Fred Rogers
Below are a few ways you can join in helping our community in the weeks ahead. As we all practice physical distancing and social solidarity, the most direct way to support non-profit organizations is through monetary donations. Whether or not you are able to give financially at this time, we invite you to pray for the helpers in our world and to make an extra phone call each week checking in on friends and neighbors.
---
Little Free Pantry & Library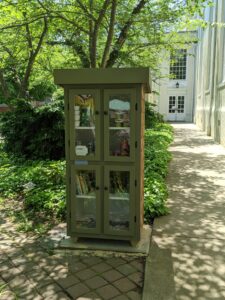 Find a new addition to the garden between Nassau Presbyterian & Maclean House. Stop by to leave or take non-perishable food items or a book. Thanks to Arm in Arm for making essentials more easily accessible to our neighbors.
Food donations to Arm In Arm are always welcome. Leave items in the new pantry OR drop them in the box located on the other side of Nassau Church, near the playground.
To donate electronically: Arm In Arm
---
Volunteers Needed at Arm in Arm!
What does volunteering at Arm in Arm look like? Glad you asked! Watch the video below…
---
Arm in Arm continues to serve a record number of individuals and families through our food pantries and grocery deliveries and in June provided groceries through more than 4,000 visits and deliveries. Our Homelessness Prevention Team is diligently working as well, and we have launched our 50 Family Challenge with the intent of helping to keep 50 families stably housed this summer.
Please note that all clients, staff and volunteers must wear masks, and that Arm in Arm provides masks to the clients who do not have them. Staff and volunteers do not have any interactions with unmasked community members. Volunteer stations are also inside and socially distant, and clients are not permitted to enter the building. Hand sanitizer, gloves and face guards are provided to volunteers as well. All volunteers must complete the COVID-19 health screening a day or two prior to reporting to the pantry to volunteer.
---
<id="hunger">Donations to Nassau Presbyterian's Hunger Offering are always appreciated as well.
We are committed to receiving the hunger offering until all are fed. The Hunger Offering is distributed locally, nationally, and internationally through Send Hunger Packing Princeton, HomeFront, Trenton Area Soup Kitchen, the Presbyterian Hunger Program, and the Uniting Reformed Church in Stellenbosch, South Africa.
Through your generosity, two additional hunger offering recipients were added throughout the first 18 months of the pandemic. Hunger Offering giving decreased to pre-pandemic levels at the beginning of Fall 2021, so the Mission & Outreach Committee has returned to the five original hunger partners.
If you redirected giving to the Hunger Offering from Arm in Arm once they were added as a temporary Hunger Offering recipient, we encourage you to re-establish your giving to Arm in Arm. Thank you for your continued generosity to the Hunger Offering, Arm in Arm, and all Nassau's mission partners.
You may donate electronically online (select the Hunger Fund): My Nassau
or by texting NASSAU Hunger to 73256.
---
Thank you for all the ways, small and large, you are helping in response to COVID-19.