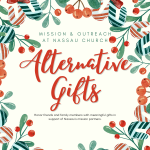 The Mission & Outreach Committee of Nassau Presbyterian Church invites you to give a special gift this year by making a donation on a friend's behalf to organizations who are working to address pressing needs in our community, region, and world. Make any donation and you will receive a virtual card suitable for emailing. The cards include the descriptions below of how each group is putting faith into action. You may also download a printable PDF of this list:
Alternative Gifts will remain available through the end of the Christmas Season—Epiphany, January 6. To receive a card before Christmas Day, make donations by end of business on December 20. Gift cards for donations made between December 21 and January 6 will be emailed on Tuesday, January 9.
This year we will also return to receiving donations during Fellowship between services in the Assembly Room on Sundays, November 29 through December 17 and after the 10 AM service on December 24. At that time, you can pick up physical cards that can be put in the mail.
---

---
Learn more about the recipient organizations:
Donations can be made online using the links below. The name of the Fund is either the name of the organization (Arm in Arm) or a shortened version listed inside the parentheses next to it (LALDEF). Donations to multiple funds can be made during one transaction. An online donation via e-check incurs nominal surcharges. Donating with a credit or debit card results in a charge to the church of approximately 2.5% of the gift — please consider increasing your gift to help defray this cost.
Please contact Lauren Yeh if you have any questions about using the online donation system.
---
Arm In Arm
The Gift of Hope
Arm In Arm partners with the community to achieve stability for our neighbors in need through the three focus areas of food, financial assistance, and advocacy.
---
Capital Harmony Works
The Gift of Joy
Capital Harmony Works gives children the chance to make music together and provides an artistic venue by which children from different backgrounds get to know each other.
---
Cetana Educational Foundation (Cetana)
The Gift of Language
Cetana serves the youth of Myanmar by providing instruction in English and critical thinking, training for teachers, and supplemental scholarship for higher education.
---
Churches for Middle East Peace (CMEP)
The Gift of Peace
Churches for Middle East Peace, a coalition of 29 national church denominations and organizations, advocate for US policies that promote comprehensive resolutions to conflicts in the Middle East with a focus on the Israeli-Palestinian Conflict.
---
HomeWorks
The Gift of Academic Enrichment
HomeWorks is a non-profit organization providing a free, community-based, after-school, residential living program for underrepresented high school young women in Trenton empowering its scholars with academic enrichment, social skills and identity-driven leadership programs and developing them to be social justice advocates who will give back to their community.
---
Latin American Legal Defense and Education Fund (LALDEF)
The Gift of Welcome
LALDEF provides advocacy and services for the immigrant communities in Mercer County, including ESL education, the Mercer County Identification Card, citizenship instruction, college preparation mentoring, and legal support for immigration issues.
---
Paul Robeson House of Princeton (Robeson House)
The Gift of Justice
The Paul Robeson House of Princeton will provide a center focused broadly on social justice issues and, locally, for the minority population of the Witherspoon-Jackson neighborhood of Princeton. It will also provide temporary housing for people in transition.
---
Princeton Community Housing (PCH)
The Gift of a Home
Princeton Community Housing has supported affordable housing to the Princeton Community for 50 years. They currently provide and manage 466 safe, high quality rental apartments to low and moderate-income residents of diverse backgrounds and ages.
---
Trenton Area Soup Kitchen (TASK)
The Gift of Nourishment
Trenton Area Soup Kitchen provides meals to all who are hungry as well as services to encourage self-sufficiency and to improve quality of life. The group informs the wider community of the needs of the hungry and advocates for resources to meet these needs.
---
Villages in Partnership (VIP)
The Gift of Teamwork
Villages in Partnership addresses extreme poverty in Malawi by addressing the critical needs of water, food security, education, health care, infrastructure, and economic development. They work with rural villages to fight poverty together.
---
Witherspoon Street Presbyterian Church (WSPC)
The Gift of Legacy
WSPC is the historically African-American Presbyterian congregation in Princeton and is an important beacon of welcome and justice in the community. Give toward WSPC's endowment to support their legacy of faithfulness and racial reconciliation.
---
Woman, Cradle of Abundance
The Gift of Empowerment
Woman, Cradle of Abundance works with women and children in the Democratic Republic of Congo to fight poverty by providing education and community that supports economic independence.
---