Six months of Adult Education class recordings. Contact the church office for earlier classes.
---
Lectio Divina
---
April 25 & May 2, 2021 | Bo Karen Lee
St. Benedict introduced the church to a rich form of Scripture meditation called lectio divina, but Ignatius of Loyola in the 16th C. added imaginative depth to the practice, which we would like to share with you. Come join us for guided meditations around various passages that invite you to see, hear, taste, touch and smell the sights and sounds of Scripture.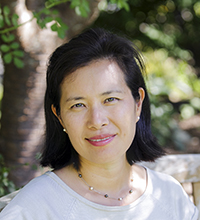 Bo Karen Lee is associate professor of spiritual theology and Christian formation at Princeton Theological Seminary. Before joining Princeton faculty, she taught at Loyola College in Baltimore, Maryland, where she developed courses with a vibrant service-learning component for students to work at shelters for women recovering from drug addiction and sex trafficking. She now enjoys teaching classes on prayer for the Spirituality and Mission Program at Princeton Seminary, in addition to taking students on retreats and hosting meditative walks along nature trails.
May 2 | Part 2
April 25 | Part 1
---
Previous Adult Education Classes
---
April 18 | Villages in Partnership
Transformational Travel: Lessons from Malawi
Hear Nassau Church's own Stephanie and Maddie Patterson, Carla Tuan, and Bob Wells reflect on experiencing life together with our brothers and sisters living in the materially impoverished but spiritually rich villages of Malawi, Africa, in a panel discussion moderated by Aaron Shaver from Nassau's Mission Partner, Villages in Partnership (VIP).
| | Speakers |
| --- | --- |
| | Aaron Shaver is a Texas native who moved to NJ and started working with Villages In Partnership in 2018. He, his wife Arielle, and their two kiddos are members of Westminster Presbyterian Church. He likes hiking, board games, and amateur woodworking. His passion is finding beauty in other cultures, and he looks forward to visiting Malawi soon himself. |
| | Madelyn Patterson is a freshman at Hopewell Valley Central High School. She is very active in athletics, including soccer and lacrosse, and will be making her confirmation at Nassau Presbyterian Church this May. She traveled to Malawi in 2019 is looking forward to making the trip back. |
| | Stephanie Patterson, the mother of three young children, lives in Hopewell,NJ and works in the employee benefits field. She is an elder at Nassau Presbyterian Church, where she has also served as a deacon, and serves as a trustee with Villages in Partnership. She has visited Malawi twice, in 2016 and 2019. |
| | Carla Tuan and her family — sister Susanna and parents Wayne and Emily — have been at Nassau all of Carla's life. She graduated from the University of Chicago with a major in Mathematics in 2018, and lives in NYC where she works in finance. Carla loves traveling, running, and reading, and she can do a Rubik's cube! |
| | Robert Wells (Bob), a consulting arborist, started Wells Tree & Landscape(now led by his son, David) in Princeton in 1973, and retired from the Morris Arboretum of the University of Pennsylvania as an Associate Director of Urban Forestry Consulting on July 1. His community service includes 15 years as chair of the Princeton Township Shade Tree Commission, five years as president of the Marquand Park Foundation, ten years in the local Rotary Club, and seven years as scoutmaster for Troop 50. He and his wife, Loretta, live in Princeton, where they raised their four children. |
---
April 11 | Arm In Arm
This is Home
ArminArm has modeled resilience and an unwavering commitment to the community it serves this past year. Last month, they created a compelling video celebration lifting up the volunteers and mission of their organization titled, This Is Home, A Celebration of Home and a Triumph of Community. Learn about the adaptive and innovative methods employed to strengthen their support of at-risk families and individuals. The clip includes an interview with Dr. Matthew Desmond, Pulitzer Prize winning author of "Evicted."
The video is a bit longer than the usual adult education offerings. Time stamps are included below to help navigate this resource.
0:00 – 17:19: the work of Arm in Arm in 2020 in the face of the pandemic
17:20 – 39:23: gratitude for Arm in Arm volunteers and donors
39:24 – end: interview with Dr. Matthew Desmond
---
April 4 | Jason Oosting
The Art of Easter
Jason Oosting returns for a special Easter Sunday Adult Education offering! Learn about works of art that help us consider the theology, meaning and significance of the resurrection of our Lord in a new way. Jason specializes in examining unconventional depictions of an ancient story and reflecting on what these works can teach about our life of faith.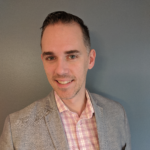 Born at an early age, Jason Oosting lives in Holland, MI with his wife Shari and kids Asher, Ezra, Elia, and Ada. He taught AP Art History for seven years at Montgomery High School and now teaches at Holland Christian High School.
---
February 21-March 28
---
Presence in Absence: The Departed Jesus Who Remains
---
A striking feature of the Gospel of John is how frequently Jesus announces his impending departure from "this world." These statements bewilder the crowds and worry his disciples. In his lengthy conversation with his disciples on the eve of his arrest, however, Jesus makes the seemingly contradictory claim that his departure ensures his ongoing presence among them. Join us for our Lenten study on this provocative, fascinating, and ultimately encouraging message Jesus delivers to his disciples in John 13-17.
---
January 10 & 17, February 7 & 14 2021
On Life's Journey
The January inter-generational all ages sessions continue with a twist. Instead of featuring content geared towards youth, this year's content is our youth. For four Sundays, listen to former Nassau youth (now young adults) talk about how their years and experiences with Nassau Presbyterian Church helped direct them on the journey of life.
---
January 24 & 31 2021
Focus on Mass Incarceration
---
January 3 | Holley & Eric Barreto
Food & Faith
How does understanding the connection between ethnic identity, food, and faith help us understand our place in the story of Scripture? Food is central to who we are as people. The act of eating is a daily, communal, formational experience. Eating together teaches us who and whose we are.
---
November 29 – December 20, 2020
---
The Art of Advent
In this four part series, Jason Oosting will lead us in an exploration of works of art that will help us consider not only who and what we're waiting for this Advent, but also how we're waiting. Looking at paintings such as Breugel's "Census at Bethlehem," Leonardo's "The Annunciation," and Friedrich's "Abbey in the Oak Forest," we'll investigate the people God chooses to work through and how we respond to God's call, imagine how the moments leading up to the birth of Christ speak to our current context, and reflect on the symbolic meaning of many of the objects that we see both in paintings and all around us this time of year.
---
October 18-November 22, 2020
---
The Psalms and the Life of Faith in 2020: Praise, Sorrow, Curse
John Calvin called the Psalms an anatomy of all parts of the soul. Martin Luther called the Psalms the Little Bible. This six-week series will discuss the Psalms and their role in the life of faith—ancient Israel's and our own. Hymns of praise, psalms of lament, thanksgiving songs, and cursing psalms will be treated as a detailed anatomy of the soul and as an entry point from the little Bible to the big one.